Hello Everyone!

We now have a store in Florence Colorado where we sell and distribute our Sidewinder Sluice's and many other Sidewinder Mining products.

We are located at: 701 W 3rd St Florence, Colo, 81226 (719)784-4053

We have lots of Prospecting Supplies and Specialty Tools. We also have practice Gold Panning tubs and we give instructional lessons, etc.

Please stop by and see us!

We are now offering Very Nice Sidewinder Paydirt in 1 pound plastic jars.It is Pre-Screened Sidewinder Sluice Concentrates from the Arkansas River
Right here in Colorado .... It is Not Searched and It is Random amounts of Fine Gold in every jar!....Please click on the picture to see a demonstration video offered by Shane Klesh .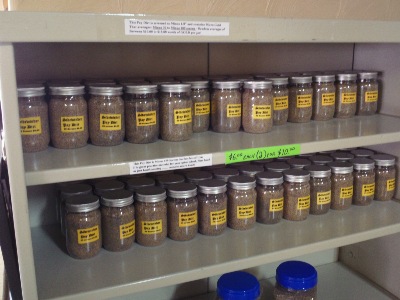 You can order (6) packs of this nice Paydirt from one of our selling platforms: Etsy ... and get the best possible deal on shipping .... or you can come by our store and purchase any quantity!
Click Here


Here we have the 48" long River Sluices ....12" wide with removable inlet flair.
It is our most popular sluice because of it's versatility and High Volume capability!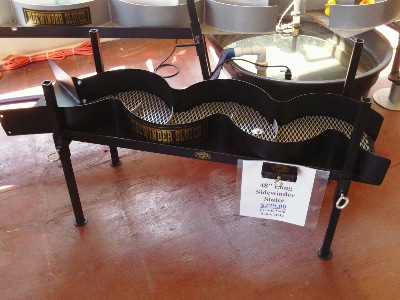 4ft Sidewinder Sluice $299.95 .... plus tax and shipping

Here are some heavy duty Sluice Stands 12" Wide X 36" long with 20" high legs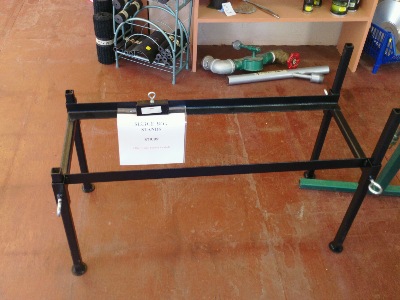 These stands are just about the strongest units you will ever find!
They use 1" square legs that are 11 gauge, (approx 1/8"), thick.
The adjuster eye bolts are 3/8".
They are Powder Coated in an Industrial hammered finish.
$119.99 plus tax and shipping
The 4ft Sidewinder Sluices fit into these stands and provide a
perfect platform for River operation or High Banker operation.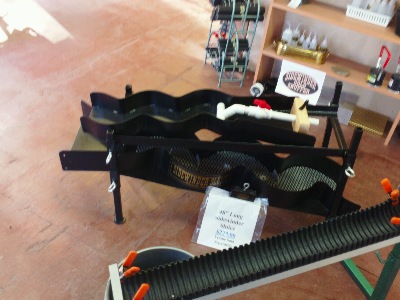 This shows stacked sluices in one of our stands...
Note: Secondary adjustable sliders are used to
support the lower sluice....Both sluices are angle adjustable!


HERE ARE THE BIG BOYS!.... 5ft Long!

....These are Special Order Only! .....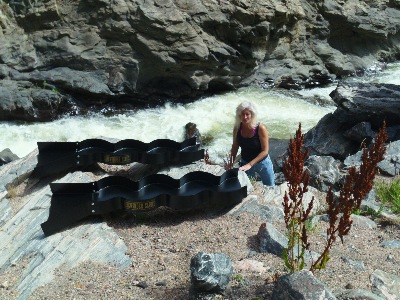 These Prospector River Models #SWRM516 are 5ft long X 16" wide X 4" deep......and they weigh: 26 pounds....Price: $439.99 We build these by special order only! Please contact us for order information...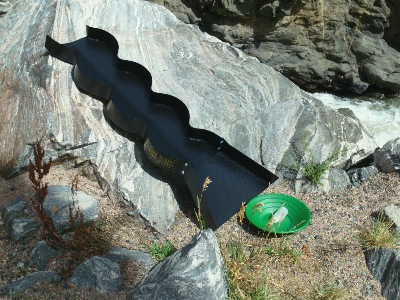 They are built from 14gg steel and they are mig welded for maximum strength and quality!......They are Powder Coated in an industrial hammered Black finish.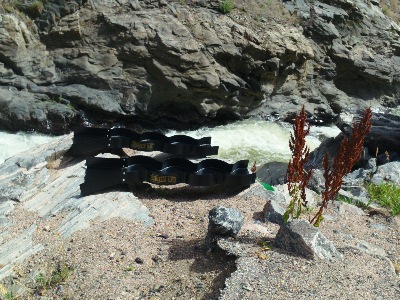 Sorry!...Presently Sold Out

Each one of the 5ft Sluices will be shipped with a new 14" Gold Pan, a Snuffer Bottle, and Instruction Manual..........The Inlet Flair is removable so the sluice can be easily connected to a highbanker or dredge!

Click on this photo for a slide show of this model on youtube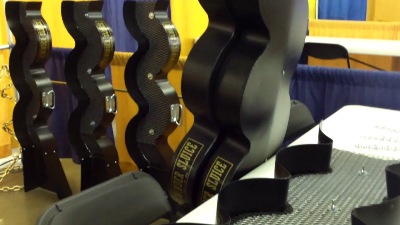 Sluices can be run into each other to create Long Tom!
Total length is Unlimited................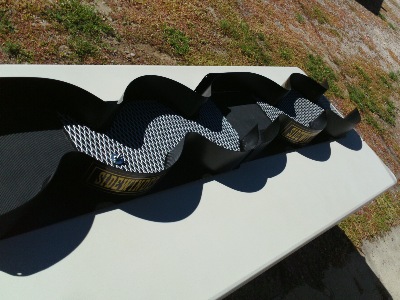 Please contact us for Availability.........We only have limited supply because we are working on several new models and custom orders constantly.....We accept PayPal or Personal Checks.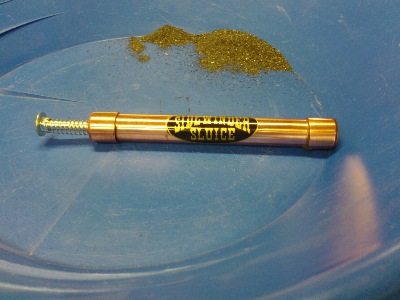 Prospectors Black Sand Magnet.. We Custom Build these. Heavy Duty 6 lb pull.. Built to last!
These plunger magnets are at least three times stronger than most others out there! They are made of Copper and Stainless Steel with Rare Earth disc magnet....Much Much Better than those plastic toy magnets!

Sidewinder Pocket Magnet - 7" long X 5/8" diameter - $15.99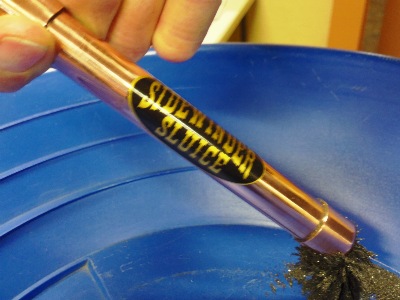 You can call or email order......or stop by our store and grab one!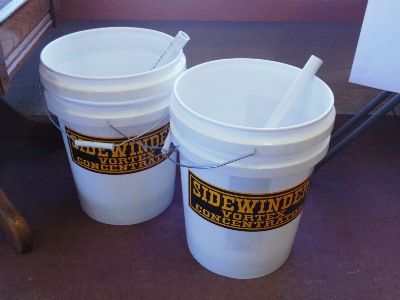 Sidewinder Vortex Concentrator Kit Special Introductory Price: $29.95 Click on the picture for a video demonstration...

We have dozens more specialty tools that we are creating for serious prospectors

Please keep checking back often!

Much....Much....More to Come!

There is ONLY ONE SIDEWINDER SLUICE (The Best Sluice Box in The World)

© Sidewinder Sluice LLC Florence Colorado

All Rights Reserved